We understand that education is the key to success. The continuous expansion of knowledge and skills it is extremely important nowadays to stand out on the job market. The dynamic development of new technologies requires people entering the market to build new competencies. More and more important in the job market will be not programming, but by the ability to use new technologies and building value through it.
Bearing in mind all these issues, we have started cooperation with universities in various forms. This enables us to support the development of students who have the opportunity to explore the secrets of robotic process automation and thus expand its competencies in this constantly evolving field.
First Byte – the owner of the Wizlink brand, supports educational programs.
As part of cooperation with universities, we offer:
free Wizlink licences,
an access to the e-learning platform, forum and marketplace with the database of ready-made micro-scenarios for robots,
substantive support.
In addition, we offer training for academic staff. After completing this training the academic staff will have the opportunity to obtain the "Certified Wizlink Teacher" diploma. In addition, the university on behalf of the First Byte may also implement certification of students who receive adequate competence in the implementation of robots in software Wizlink – in lectures or in thesis. For this purpose, we have designed the "Wizlink Bot Diploma" and "Advanced Wizlink Bot Diploma" certificates respectively.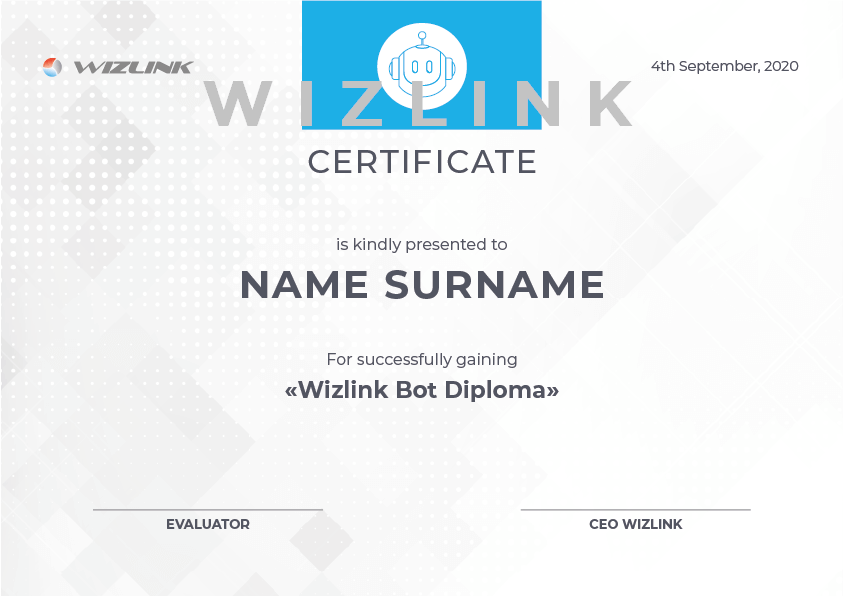 sample certificate
Detailed information about certification is available on our website: wizlink.eu/en/cerificates/.
We have signed a partnership agreement with the WSB University Faculty of Economics in Opole a part of the WSB University in Wrocław. The agreement concerns cooperation in the field of student education and research. Thus, the company First Byte sp.z o.o. received the title of the Partner of Engineering Management major and Business Partner of the WSB University Faculty of Economics in Opole a part of the WSB University in Wrocław. The WSB University was the first receiver of the certificate confirming participation in the "Wizlink – robots at universities" program.
As part of cooperation with the Cracow University of Economics, we conducted workshops for students. The main topic of these workshops was using of robots in controlling. Each of the participants could see for themselves how the robotic process automation tool works, as well as create their own robot.
If you would like Wizlink to appear at your university, please contact us via e-mail: contact@wizlink.eu.
We have been trusted by: