First Byte has obtained a protection right for the "Wizlink®" trademark from:
– European Union Intellectual Property Office (EUIPO)
and
– Patent Office of the Republic of Poland.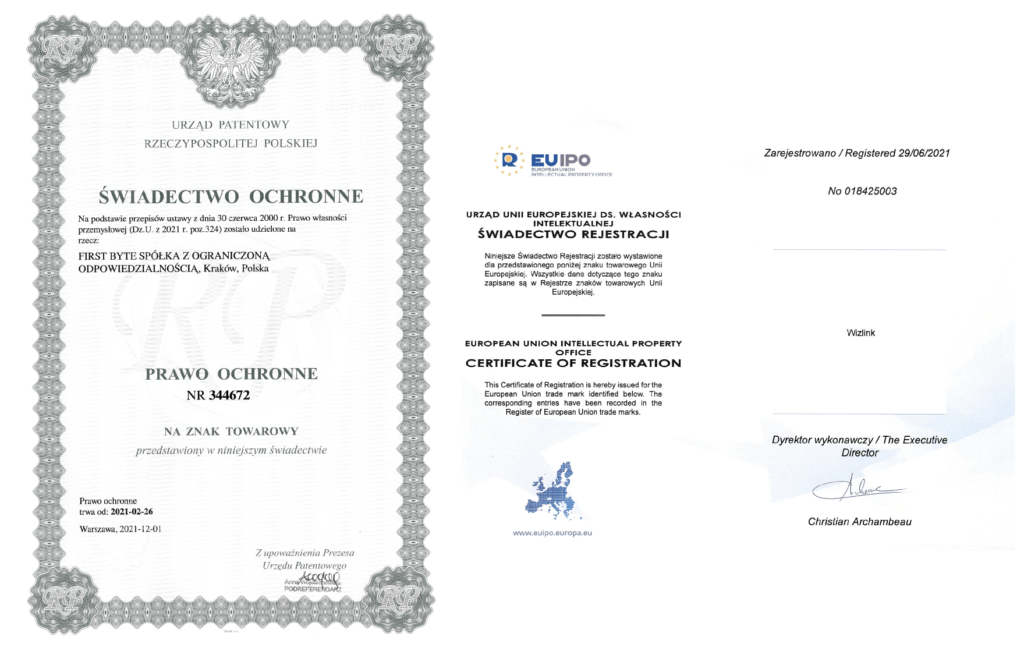 With the acquired law, First Byte is authorized to display the Wizlink mark with the ® symbol. The trademark protection law guarantees the exclusive use of the mark in a commercial and professional manner throughout the European Union, including the entire territory of Poland, in the scope of goods and services listed in the certificate.
What is a trademark and why would it be registered?
A trademark can be any sign that allows to distinguis the goods and / or services of one entrepreneur from the goods and / or services of another entrepreneur and that can be presented in the trademark register in a way that allows for the determination of an unambiguous and precise subject of protection granted on the mark. The trademark protection law is obtained by registering with the appropriate office. Its owner or owners obtain legal protection for goods and services marked with such a mark. This is an exclusive right that only belongs to its owner or owners [1].
Trade marks are registered in accordance with the International Nice Classification, for specific goods and services. There are several benefits of obtaining a trademark protection right. First of all, it gives the opportunity to obtain the formal right to the company's brand. This increases credibility and helps prevent unfair brand misappropriation practices.
The above-mentioned information is not legal advice, nor do they exhaust the entire subject of trademarks.
---
[1] https://uprp.gov.pl/pl/przedmioty-ochrony/znaki-towarowe/znaki-towarowe-informacje-podstawowe